Robert Whitaker with George Harrison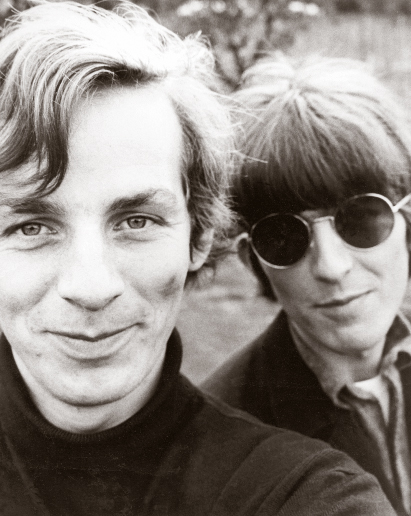 Unseen Beatles by Robert Whitaker
On his arrival in England in August 1964, Whitaker set to work photographing the members of the NEMS stable. Including Billy J. Kramer & The Dakotas, Gerry & The Pacemakers (cover shots for their How Do You Like It and Ferry Across The Mersey LPs). And Cilla Black (cover shots for the Cilla and Cilla Sings A Rainbow LPs). He also did several photographs of the hugely successful Australian folk-pop group The Seekers. The cover shots for the LP Seekers Seen in Green (1967). His Seekers photos were also used for the archival CD Live at the Talk of the Town. The Seekers Complete boxed set and a more recent photo of Judith Durham. Used on the cover of her 2001 solo CD Hang on to Your Dream.
Work with the Beatles between '64-'66
But it was with The Beatles and especially John Lennon, with whom he became close friends, that Whitaker created his most famous and enduring work. One of his first assignments was photographing The Beatles during their triumphant second American tour. Including the historic Shea Stadium concert in New York. He spent the next two years traveling with the Beatles and shooting them at work, at rest and at play—on their tours, at home, in the recording studio, during private moments, and in formal photo-sessions. His photos from this period include the portraits that were used to form the Klaus Voormann collage-illustration on the cover of the group's landmark 1966 LP Revolver. And a series of group portraits taken while the group was making promotional films for the singles "Rain" and "Paperback Writer" in Chiswick Park, London in 1966. With the famous "Way Out" portrait of George Harrison.
unlimited access
With almost unlimited access to the most famous and popular band in the world, Whitaker quickly became a key figure of the London underground scene. Capturing "the creativity and excess of London in the sixties". He has been quoted as saying: "There were about 100 people who ran the Sixties". And he was fortunate enough to meet and photograph virtually all of them.
tour of Japan
Whitaker also accompanied The Beatles on their 1966 tour of Japan. In Tokyo the promoter gave him a Nikon 21 mm wide-angle lens with which he took numerous shots of The Beatles relaxing in their hotel room at the Tokyo Hilton. These include several photographs of the four Beatles at work on a collaborative painting "Images of a Woman". The only such joint artwork they ever undertook, and a colour photo of the group inspecting antiques. Which was used on the back cover of the compilation album A Collection of Beatles Oldies.
The collection: Unseen Beatles by Robert Whitaker
The unique collection shows it all. Shot between 1964 – 1966 and piece by piece signed by renowned photographer Robert Whitaker. Over one hundred pictures, collected by me during my personal and close friendship with this brilliant photographer.